Have you been looking for a solution to grow your lawn/pest company all while condensing your routes? Have you ever heard of Cloverleafing? If you've heard the term, great, I might have a spin on the technique for you.
If you haven't heard how it works let me explain a technique that doesn't cost an arm and a leg, and doesn't take hardly any extra time to do.
Here is how Cloverleafing works. When you or a technician go out on your routes all you do is take 4 door hangers and hang 2 on the houses directly across the street and the house on each side of the house your spraying.  When you use your imagination it looks like a Cloverleaf. Some people also call this the "4 around".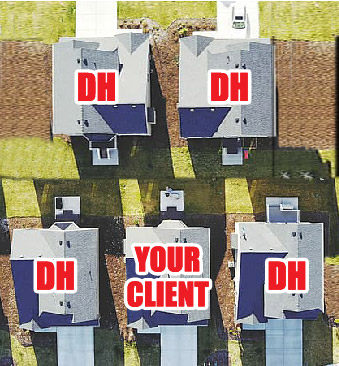 Now that you know what Cloverleafing is, I will tell you about a special technique that I use when designing door hangers.
At Spray Signs we specialize in Posting Signs. So what
we like to do is take your sign & put it on the front of your door hanger with a message that can range from:
"Sorry we didn't treat your lawn but we would like to."
Or..
"We are taking care of your neighbor's lawn, and we would like to take care of yours too."
WHY? 
When the homeowner looks next door or across the street and sees the sign in their neighbor's yard they will know that they can ask them to see if they recommend your company.
Everyone knows that word of mouth is by far the best advertising. BUT the service you offer is what I like to refer to as an "invisible service".
If you leave the property without placing a sign it is like an artist not signing their work. You need to take credit for the great work you are doing each day.
The combination of signs and door hangers working together creates the opportunity to get the neighbors discussing your services. (Think of it as positive neighborhood gossip.)
Bonus Tip: Less is more with door hangers

Okay. I might be talking to you right now. But I'm doing it because I want you to succeed.
Don't write a 3,000 word article with paragraphs and sub-paragraphs on a door hanger.
This is not a legal brief, this is a marketing piece. Use less words. Keep a clear message.
The job of a door hanger is NOT to make your sales pitch for you.
It is to get your foot in the door.
Print a Price Estimate On The Door Hanger
Door hangers that educate the homeowner on price will save you time and money. 
HOW?
You will save time by not having to answer a lot of phone calls just to provide a simple quote. 
If you provide the price upfront, then all the incoming calls will be further along in the buying process, and easier for you to convert into paying customers.
Remember there is no one product that can close the sale by its self. It is a combination of products along with a friendly sales pitch that will get you a new customer.
BUT it is GREAT SERVICE as well as FRIENDLY CUSTOMER SERVICE that will keep them happy.
To talk to a professional about expertly designed door hangers...
Here is a cool video from Jason Creel at lawncarelife.com. Jason talks about the value of having a professional lawn sign, made of durable materials, and created by a professional designer.
(Overall his youtube channel is pretty cool, full of neat tips and thoughtful insights to help you run a more profitable landscaping business. Check it out at: Lawncarelife on Youtube )