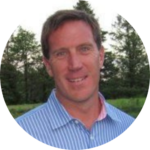 17 years of experience in the printing and promotional materials business,  owner of American Business Forms & Envelopes in Baltimore
Door hangers have the special ability to cut through a lot of the noise that people encounter every day. They are physical, so the customer can hold them and turn them over, and read them. And they require work to put on a door handle. So as a homeowner  is walking through their house looking at the door hanger, they are thinking, "wow, someone took the time to place this on my doorknob."
The hope from the business owner is that those few extra seconds will be enough to cut through all of the other marketing that the customer is seeing; and for your message to resonate. That feeling of closeness and familiarity is important to all five keys that I talk about in this blog.
At American Business Forms & Envelopes we work with hundreds of customers each year and I have had a chance to see what works and what doesn't. Here are my top 5 things to remember with door hangers.
5 Easy Tips For A Great Door Hanger
#1) Use the 3 around or the 5 around to inform neighbors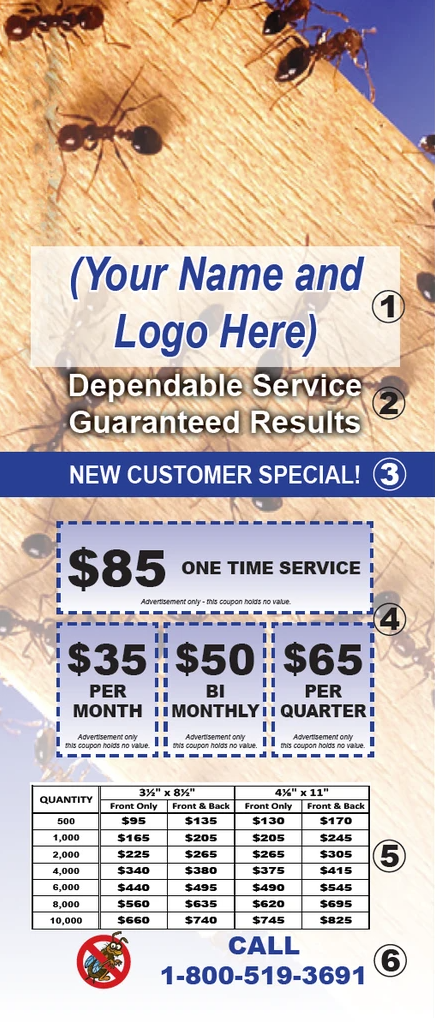 First things first, your greatest attribute, is that you are already working in their neighborhood.
So you want to inspire a feeling of familiarity. Like I mentioned before, if someone's gonna put a door hanger on your door, that means they took a pretty significant amount of time and effort to try and win your business.
That is the key to the 3 around or the 5 around. You have a hanger that says "We are helping your neighbor… " That lets the homeowner know you are local and you are already working in the neighborhood. You can drop these at the neighbors on either side of where you're working and also all three houses across the street.
Also, list your prices on there and let them know how easy it will be to sign up as a new customer.
The alternative to this would be some type of mass mailing. Here's all my mail for the day, I have it all stacked up and I sort it standing above the trash can. At least with the door hanger, the homeowner has to get from the front door to the kitchen before they decide to toss it in the trash. And the odds are, If you can have enough impact with your door hanger you will get a decent percentage of them who will give you a call at least to ask about your services.
#2) Service report form on the back
A door hanger can be a convenient place to print your service report forms. And you can leave it on the door knob on your way out if the customer is not around. Or as you are talking the customer through the report at the end of the visit, it is a nice convenient size to hold in your hand. And of course the other side of the door hanger has one of the other messages printed on it. And before your technician leaves the area he or she can walk around to the 3 or 5 closest houses and leave the marketing side of the door hanger.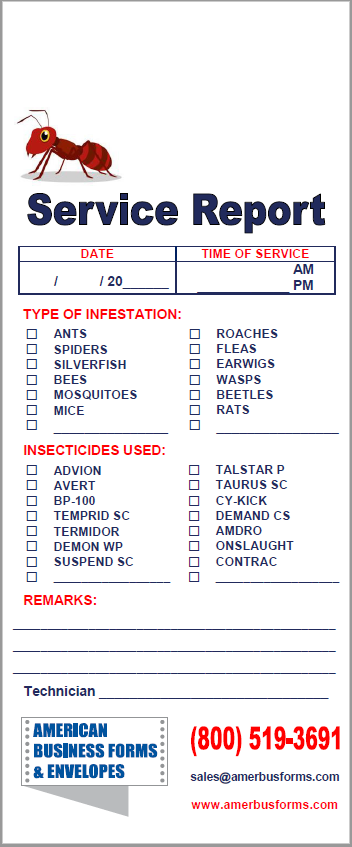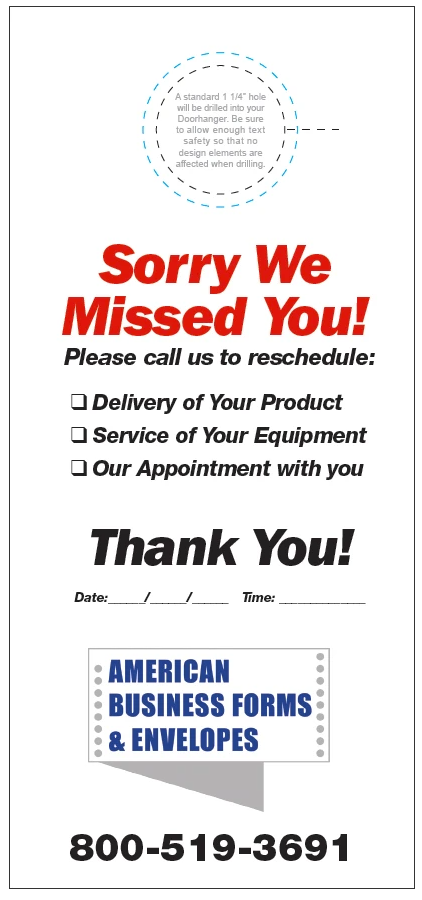 This is a great one to have printed on the backside of your marketing door hanger. "Sorry We Missed You".  This is for a current customer who was supposed to be home but wasn't there to let you in. So you tell them that you went ahead and treated the parts of the house that you could get to. And you leave a time, date, and the name of the person who was there. So that later when you bill them for that visit, they can't complain that you never came. 
#4) List everything you offer
Let the homeowner know everything that you do. Also, let them know how much you charge for your different packages of services.
When you list out the pests with images it seems to be more powerful and also helps them know what you are talking about. Pictures of the pests resonate with everyone no matter what language you speak.
Also, when you leave it on their door and give them your number, you are making it easy for them.
Obviously, you are already working with some of the other homeowners in the area. So they can talk to their neighbors to see if they recommend the service. And since we are already in the area we can give you a break on the price for the first service call.
That is much easier for the homeowner than if they have a problem and they google "pest control near me" and they get the names of 27 companies and they don't know who to choose. This way you are making the choice simple. Choose the people who took the time to leave you a door hanger.
Most printing places will offer either a 3 1/2″ X 8 1/2″  and also a bigger one that's 4″ by 11″. The bigger one costs more. I can say honestly that they both have the same impact on the homeowner. In my opinion, you might as well choose the smaller one. The bigger one is so big, that it can be off-putting for some people. I always recommend the smaller one.
I heard a long time ago that in good times, you have to market to grow, but in bad times you have to market to SURVIVE! But either way, you have to always be working to add new customers to grow your business. In my experience, door hangers are a cost-effective and targeted way to market your Pest Control business to homeowners who are extremely likely to convert to paying customers. Let me know what you think about my top five list in your comments below.
All of the examples that I have used in this blog are real examples that we produced at ABF. If you are interested in working with us at American Business Forms, we will be glad to work with you to help you grow your business in 2021 and beyond!