If you own a Green lawn care business or you are an entrepreneur in the world of Natural pest control, or any other type of lawn care or pest control services, you are creating a product that is anonymous once your truck drives away.
Yard signs are a great way to remind people to stay off the grass after treatments and also to advertise your brand. You want to be sure that people in the neighborhood know YOUR COMPANY is the one that keeps this house protected from pests and/or keeps this lawn looking lovely and green.
After 6 years in the business and hundreds of signs, here are my five keys to creating great lawn care yard signs.
1. Your Sign Should Be At Least The Size of a Piece of Paper - (8.5" x 11")
Many states require a 4″ x 5″ sign after you treat a property. That size is fine to satisfy state requirements BUT you are losing out on the valuable advertising space.
A well-designed sign, can attract attention to the weed or pest-free lawn you have been working on. And also keep people safe by letting them know to stay off the grass until it is dry. It is also a simple way to spread brand awareness in your community with your target customers.
You offer an INVISIBLE SERVICE. If your truck pulls away without leaving a sign, it is like having a masterpiece of a painting without the signature of the artist.
A small 4" x 5" sign in a 2,000 sq ft lawn isn't much better than not doing one at all. It will be lost and no one will read it.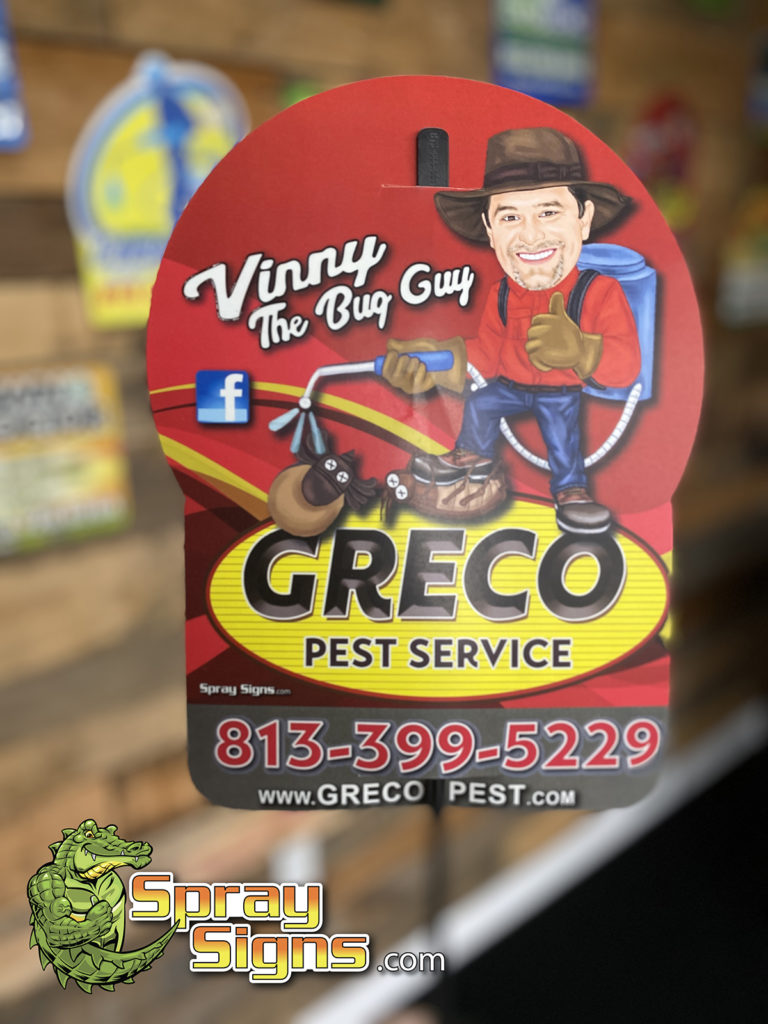 2. Use Colors Other Than Green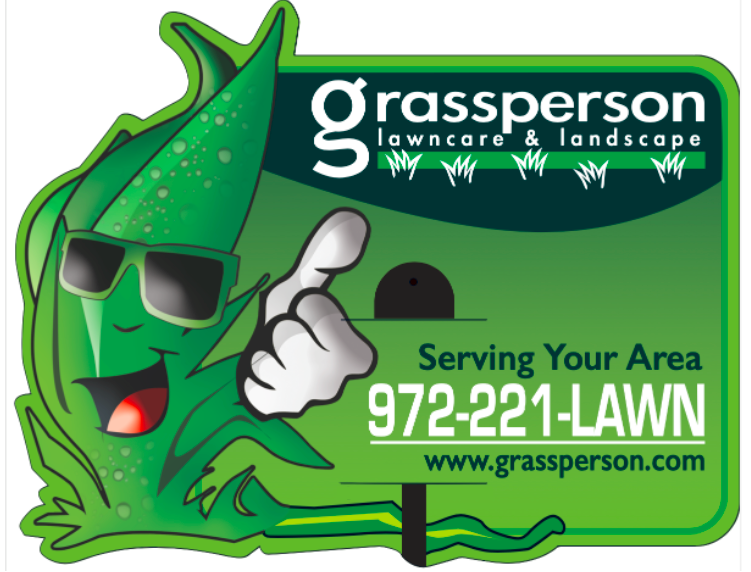 This may ruffle some feathers, because using a lot of green in your sign will seem natural. 
That's what you want to create is a beautiful green lawn so your signs should mimic that, right? right?
Wrong.
Wrong, wrong, wrong…
I'm sorry to crush that myth. But think through it. If you put a GREEN sign, in a GREEN lawn, in front of GREEN bushes.
Congratulations you made your sign perfectly blend in with the background. It is now a camouflaged sign, and no one will notice it.
The best signs will have a little bit of green, but the focus colors should be on the opposite side of the color wheel. 
They create a bit of contrast with Green, so that key messages really, POP. Behold: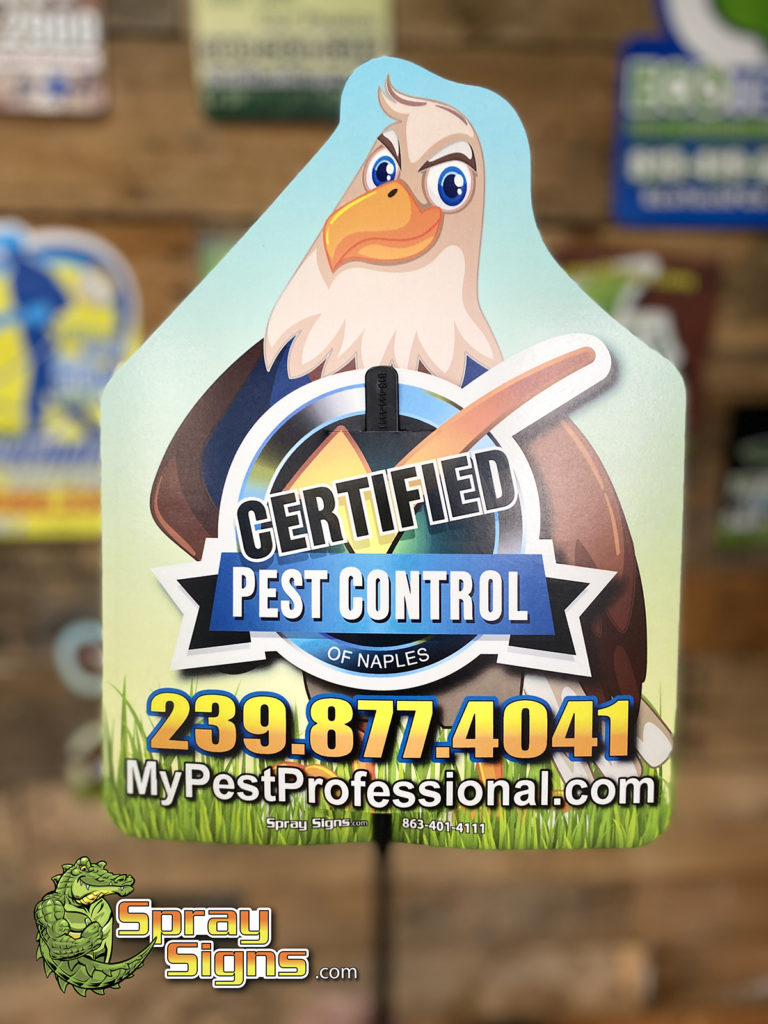 3. Don't Buy From A Quick Print
Since you are a part of your local business community, you probabally have a "buddy" that does printing or knows someone that can give you a good deal.
You might be tempted to go down to a local chain printshop. That's fine for your business cards, door hangers, postcards or flyers BUT not for the signs you are going to post.
Why?
Aren't they all the same? Defiantly NOT!!!
What is different?
For example a high quality, specialty printing shop will ONLY print on Poly coated board. Be sure you verify this before they print your signs.
This is the same material that milk cartons are made of, it is very water resistant. This is essential for a lawn sign.
Here is what one of my poly signs looks like after 34 days in the Florida rain and sun.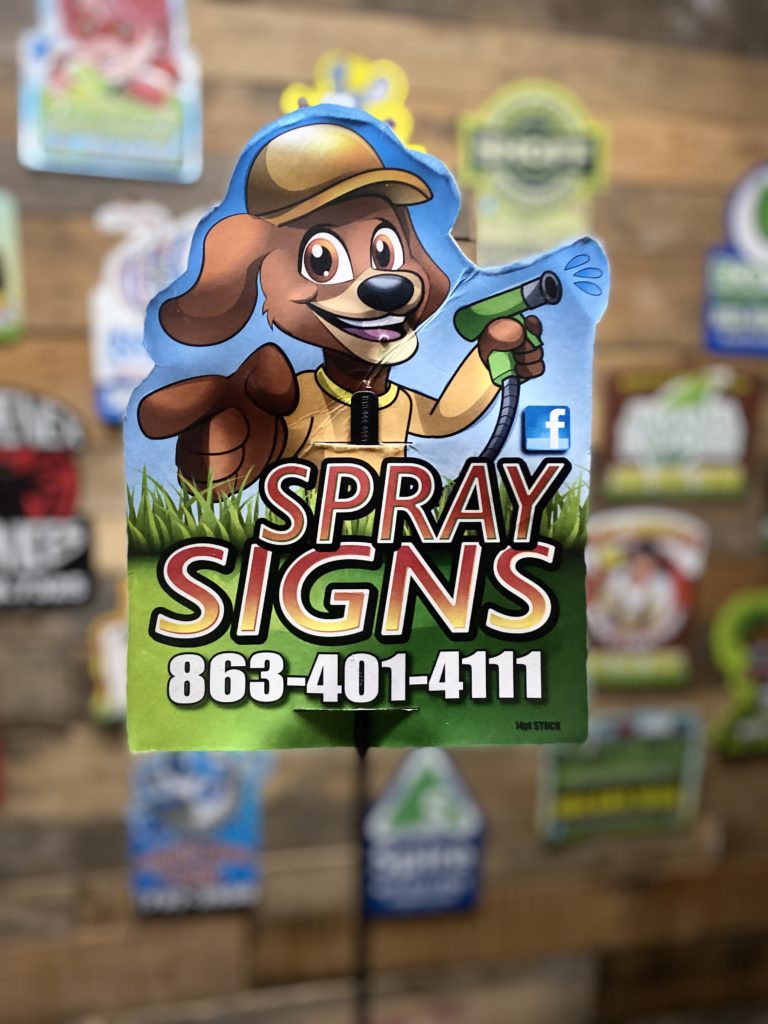 It got rained on 27 times, storming so bad that the sign fell over & I had to go out and pick it up and put it back in the lawn. And after 34 days it was still standing strong!
Here is the thing, poly is expensive & full of static. It is difficult to to print on. This is why many places don't print on it. Some print shops will try to use cardstock & UV coat it. THIS DOES NOT WORK!
It is still your responsibility as the applicator & business owner to post the correct signage, but having a knowledgeable expert to help advise you can save a lot of headaches.
You need to work with someone who knows the ins and outs of pest control and lawn care business. They will help advise you about state regulations for sign requirements. And you will end up with a much better finished product.
Pro tip: use both sides of your sign.
4. Don't Try to Design It Yourself
I had a client just last week after the design was near completion email me and say:
"My wife doesn't like it because X, Y, and Z reasons….." 
My answer was sarcastic and lacked professionalism but it was 100% true and he needed to hear it.
"I have a BFA from The Savannah College of Art & Design, one of the best art schools in the nation….
I have been a PROFESSIONAL Graphic Designer for 25 years…. I have designed close to 1,000 Posting Signs, including many for major national companies ….  I am not sure you should trust her opinion over mine."
The next morning he wrote:
"HA HA HA HA now tell me what you really think! Listen, you're 100% right, it's an amazing design & I will just have to tell my wife she's wrong… P.S. Do you have an empty office for me to come stay in?"
After 25 years as a designer I've learned EVERYONE thinks they are a designer!
A skilled PROFESSIONAL designer with experience creating signs like this,  WILL get your signs noticed.
The resulting sign will show a high level of professionalism and attention to detail and your perspective customers will be able to see the difference.
For a little bit of extra investment your small business will look as good as a look Fortune 500 corporation.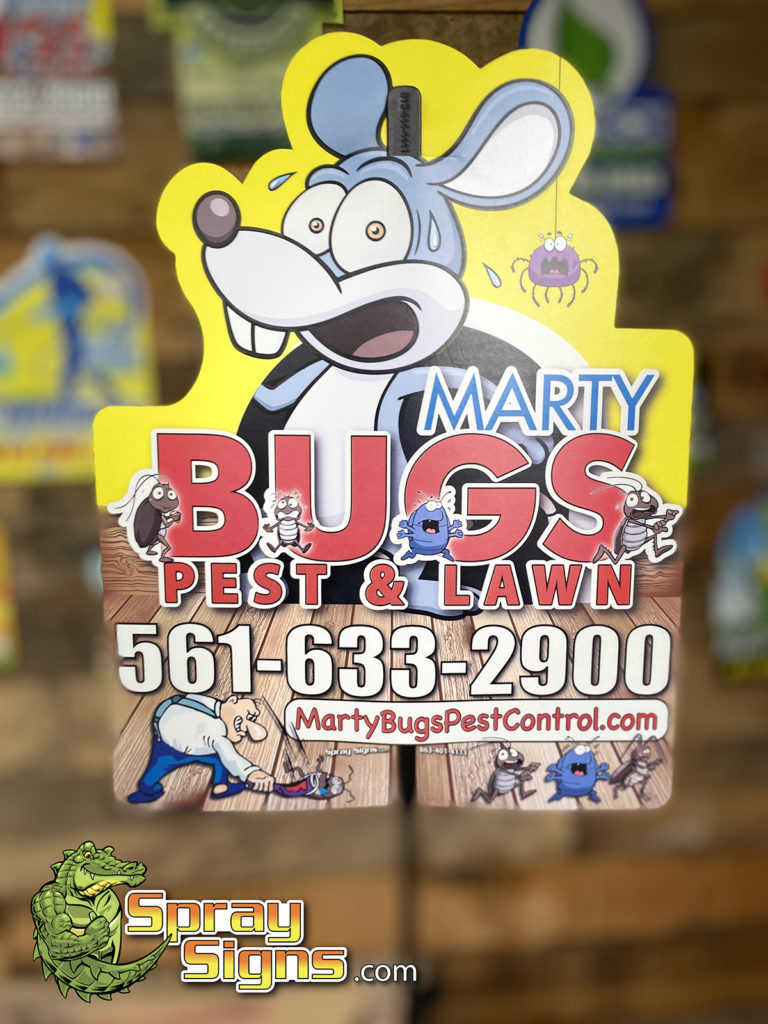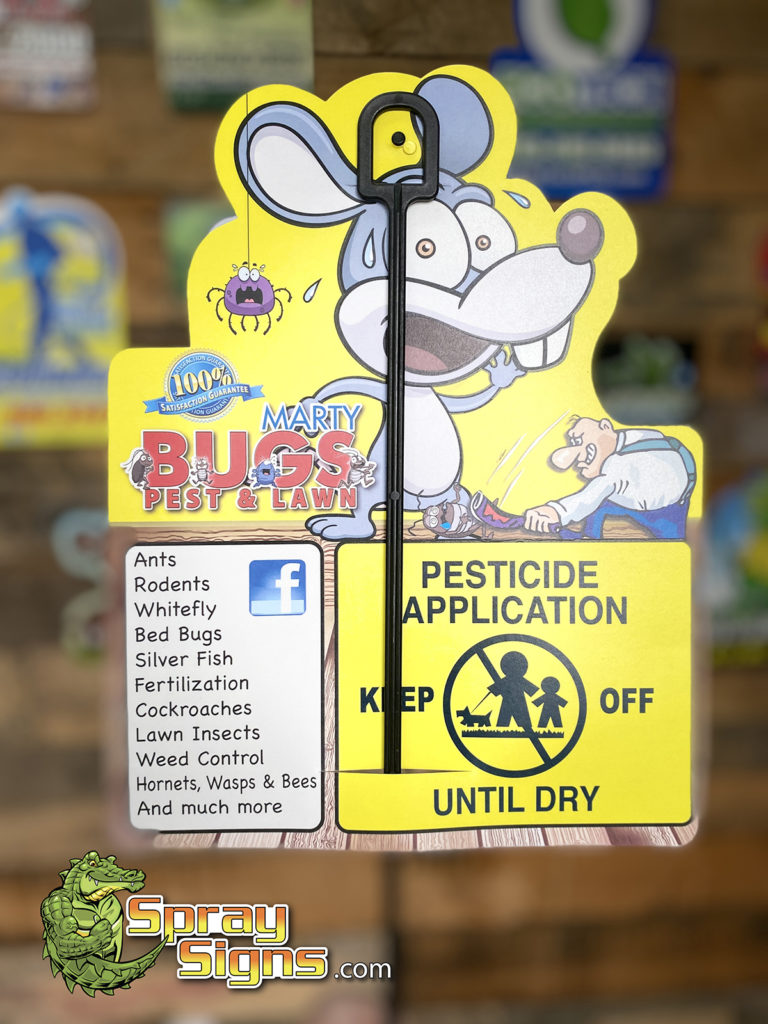 5. Add A Warning Like, "Pesticide Application Keep Off Until Dry" To Your Signs
Currently 20 states require a warning to be posted after a lawn application of a fertilizer or pesticide product. 
BUT even if your state does not require a warning DO IT ANYWAY!!!! Why? Every label I have read says that you should wait for the product to dry before re-entering the lawn. The right thing to do is to post a sign stating this.
Additionally, some clients will not want you to put advertising on their lawn, by including a warning you will easily be able to justify posting your sign. You are posting as a heads-up to people walking their dogs or any neighbors that a treatment has just occurred and they should stay off the grass. This makes it an easy conversation.
Keep these tips in mind as you are designing and printing your spray signs. Don't be afraid to be a little different. Hire a professional printer/designer and trust their judgment. Your customers can tell when you put a little extra care and effort into your branding and marketing. Small touches can have a big impact over the long term.
When your phone is ringing off the hook with new customers, you will be glad you invested in a professional designer.
Spray Signs work with customers across the U.S. If you have a project in mind you would like to talk about, visit their site: https://spraysigns.com/