Super Bowl Sunday, Feb 4, 2021...
It was a chilly night in Chicago (where I live) and I was watching the snow, waiting for the big game to start and I thought to myself, "I'm ready for warm weather, and mosquitoes."
I pulled out my phone and posted a quick advertisment on the Stop The Bites! Facebook page: "Who's ready for mosquito season?" along with a photo of a person with a backpack mister/blower treating a backyard.
Just a simple, good-natured ad. Nothing heavy. I was trying to see if applicators were out there thinking about mosquito season, like I was.
Almost immediately, the first comment came in…
"This crap doesn't work!"

Here is a link to the actual facebook post
As soon as the first comment came in, "This crap doesn't work!", I will admit. I got a little mad. Almost as a reflex, I hid the comment. I didn't want it to stay up there, what if other people saw it? What if other people thought, "yeah, this stuff doesn't work". So I hid the comment, and I put my phone down.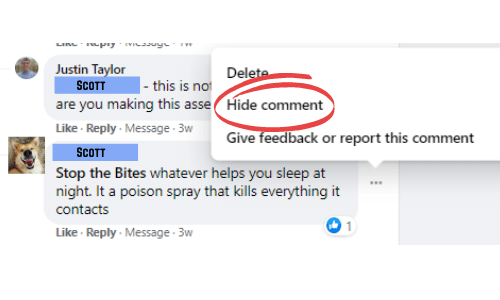 But then, after a couple of minutes, I came back to my phone, I unhid the comment and I let the magic begin. I replied, "Have you tried it?"
Then, out of the blue, a different person, whom I have never spoken with, jumped in, in support of Stop The Bites!
And more comments piled in, some in support, some opposed. Many asked the same things, "What is the mix rate?"; "Why is the person in the picture not wearing a mask, that is illegal!"
Since engagement is so important on facebook, the more comments and the more controversy, the bigger the post got. Eventually it had 160 comments. Some good, some bad, lots of questions, lots of links to various Stop The Bites! blogs. It was a wild ride.
It was a pretty free-wheeling discussion and the interactions were generally positive. The fact that so many other people had already commented helped other people feel more free to jump in and offer their opinions.
How to deal with negativity on your pest control facebook page
I certainly understand the instinct to just hide any negative comment that pops up. But I hope this post helps you think that there is another way. Here is a helpful blog post from Marketingland.com "10 tactics for handling haters on Facebook"
Especially if the negative comment is one that can be discussed openly and used as a learning opportunity.
For Example, "This guy is a fraud, he came to my house to treat for ants last month, and I was looking around today, and I still have ants! I need a Refund!!!"
You could hide that comment, no one would blame you if you did.
or, you could use it as a teaching opportunity.
"James, thank you for your comment. Yes, we treated for ants last month and as you will remember we talked about the importantce of keeping your kitchen clean and free from the sticky, sugary things that ants love. No amount of treatments will stop ants without eliminating their food sources. Let's take this conversation offline from here, I will call you tomorrow."
Reputation is everything for a small business. I hope there is room out there in the world to both build our online reputations and show that we are human, at the same time. What do you think?